"DONT EVAH GET THA TRUTH BENT" ~Nicki Minaj 'MUNY'




only thing u can ask meHHh iz h()w 1want mah sanwiSHES



DISWHAT i USE2 SLAP A HO3!



EH EH and if jah got a lil tr33 on jah b()()..T" ::chuckles



R3l1g1ous like the pr3acha nI cam3 2warn ya



dangggg ...ain't 3v3n pr3gnant but I'm birthin bischezz...I got flavor like that girl deelishis.Stop actin like u a killer w all d3m girl333 disses, BISCHEZ!!




"You wanna sleep on me OVERNITE?!"......




...."I'm the moeffinnngg boss!" .....


"Overwrite!!!!!!!!"



Nicki stay on point, always ahead of the game, biz savvy like we never seen anotha, cant imagine no one like her. She always in front of the ball, who can tackle that. Nicki is the best, FACE IT. remember wen u haterz judge anotha, u just definin yaself. dont get it twisted =P
and check it..#GMTA..and this is BBC, check mah credentialz

I refer to Nicki as my DOC (drug of choice) and A/D/i/D/a/N ...if u be actin like George and u wanna know what that means 2 mehhh, then please ask.::sigh:: ok...its *All.*Day.*I.*Dream.*About.*Nicki*


not that this matters but im just startin to work on mah page so i'll do the personal stats right now...

#1. I'm a friGGinn Tripppp like whoa

#2. I might be small but mah booty isn't, and like my mind, I'm strong and my thoughts are BIG. so recognize that.*giggles* "i aint nevah had a problem givin bischez tha bidnesss, pop bischez in deyy eyez like i finish me spinach" BEELEE DAT!
#3. sometimes the BESTEST things come in the smallest of packagez, tiz true..I'm sexy, so are you....i love REAL WOMEN....emphasis on*REAL* puuHLeeez, TY.

#4. im pretty humble , especially if i be feelin someone, like REALLY into someone but IM a FREAKIN WILD BARB and i love makin money, and love spendin it quicker than i make it but I maintain mah super credit score 7, BEELEE DAT

#5. I LOVE everyone for their differences

#6. I Loooov3 to play and I party hard but only w good company, otherwise i love juss chiLLaXin w mah boo or alone, cuz i know i never alone...ya feel mi?

#7. silence is golden, MOST of the time =)

#8. I'm an innovative pioneer

#9 i'm sooo intuitive and refer to mahself as an empath, sometimes it overwhelmz mi.

#10. I'm a visionary AND I LOVE NICKI SOOOOO MUCH!!!!!! Thank you GOD!!!!!!

mah stats...in case we can play hook up matchmaker on here ahahhahah!!! ...(please refer to #1)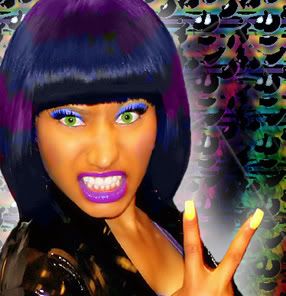 Blog
Fri, Apr 29, 2011 at 1:28 PM

Okay?! do i deserve an explanation? no one has to but i came on to blog that ive been gettin calls from a restricted number and its kinda botherin me because i feel like my ex grabbed my new number from someone connected to the both of us, for whatever reason *shrugs* . i just dont want her in my life , shes dead to me so wtf is going on??!